Bits of crispy bacon, lots of cheese and fries ... dang ... that's what I craved when I had my migraine. Oh yeah, it helps a lot. Lower your eyebrows friends, LOL. When we went to Saint Cloud, Florida, my migraine was kickin' in. With misty eyes, was burnin' hot and my mind wandered what I would do for relief. A good cold shower helps a bit but, since we were on the road traveling for almost two hours in a scorching heat, pain was really bad. After meeting with a friend, hubby mentioned about Ale House. Oh my goodness, I remember this: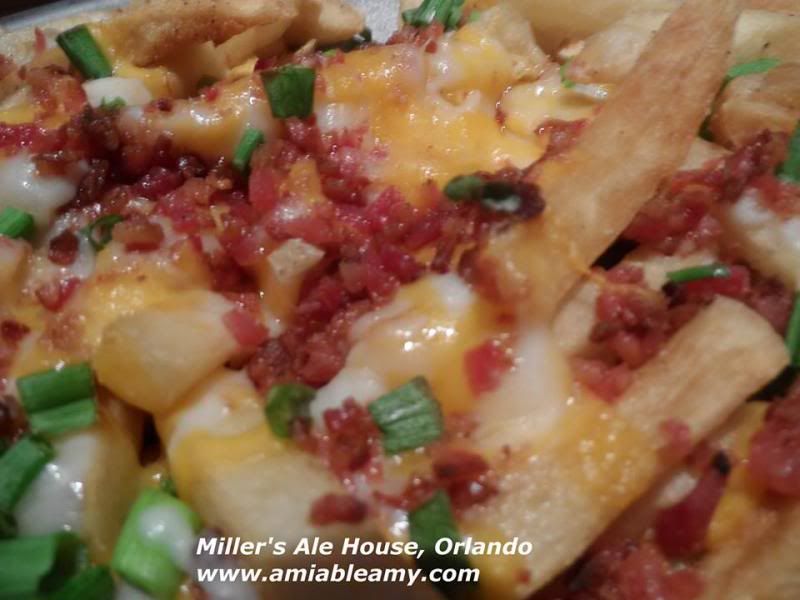 I told him, we will have lunch at Ale House and we drove 35 minutes from Saint Cloud to the Airport Ale House. I ordered the ALE HOUSE LOADED FRIES, a pound of seasoned fries with melted jack and Cheddar Cheeses, scallions, bacon bits and ranch dressing for dipping. This is humongous so; I end up asking for a box after the meal. Burp! Oppsss ...
A blurry shot huh? This is hubby's favorite, FRENCH ONION SOUP: onions sauteed in a sherry broth and smothered in a thick layer of provolone cheese. I did not try but he said this is his all time favorite soup.
The husband ordered this too but, we shared. BABY BACK RIBS half rack is one of the specialty at Miller's Ale House. Fall off the bone indeed! It is slow cooked and smothered with southern BBQ Sauce served with choice of Potato and cole slaw. We were so full and had no space for dessert (wink).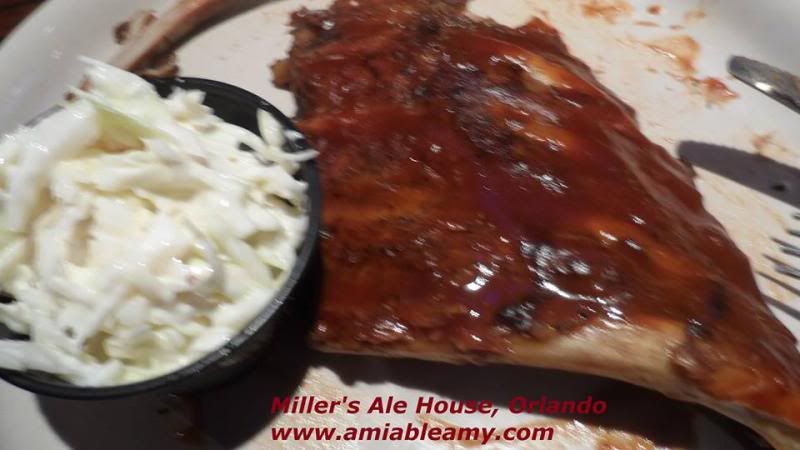 On our next visit, I will try the OSSOBUCO. The picture looks good but, was not too thrilled to eat at that time. It is a marinated pork shank served with mashed potatoes, gravy and vegetable of the day. Sounds delicious right? When we went home, my migraine slowly disappear. (wink) ...